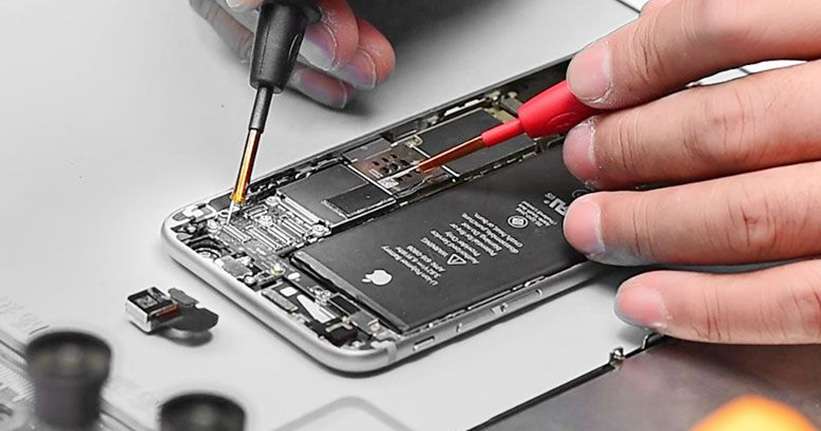 Whether you're dealing with a cracked screen, battery damage, a phone that won't charge or any other repair issue, it's essential to choose the right store to ensure your iPhone is treated with the utmost care during repair.
Consider the following points when choosing the best iPhone repair service for your needs in NYC:
1. Do Your Research
Before walking into any repair store, always do your research. The internet is a goldmine of information. Reading online reviews for stores offering iPhone repair in NYC can provide a clear picture of what to expect. In addition, ask friends and family for their recommendations.
2. Consider the Store's Specialization
Different stores have differing specializations. While some focus exclusively on iPhone screen repair, others might excel in water damage repairs. If you're aware of your phone's issue, targeting a store that specializes in that area can be beneficial.
For iPhone repairs, it's highly recommended to choose an authorized Apple service provider.
3. Experience Matters
The experience of your iPhone technician is vital to ensure quality repairs. Always inquire about how long the technicians at the store have been working on iPhones and their training background. Authorized Apple iPhone repair stores require a high level of specialist training.
4. Warranty Offers
Always opt for a store that offers a warranty on iPhone repairs. This is an assurance of their confidence in the service they provide. The warranty should cover both parts and labor.
5. Quality of Spare Parts
The longevity of your repair hinges on the quality of the spare parts used. It's crucial to ask whether a store uses genuine Apple parts or aftermarket variants. An authorized Apple iPhone repair store, for instance, will likely use genuine parts.
6. Turnaround Time
Knowing the length of time your repair will take is essential, especially if you – like most of us – depend on your iPhone. While some stores offer same-day iPhone repair in NYC, others might require a more extended period.
7. Compare Prices
Prices can vary dramatically from one store to another. Getting quotes from several stores ensures you get value for your money.
8. Data Backup
Before any repair, always back up your data. Among the available Apple support services in New York, some stores operate as remote backup solution centers and can help ensure your data remains safe no matter the repair outcome.
9. Location Convenience
Using a remote Apple iPhone repair service will add to your wait time, not to mention adding the inconvenience of shipping your phone away for repair. Finding reliable iPhone repair in NYC is likely to be much more convenient.
Find Authorized Apple iPhone Repair in NYC
Selecting the right iPhone repair store in the vast NYC market might seem daunting. However, by narrowing your options down and following the guidelines above to choose the 'winner', you can be sure you're making an informed choice.
For a trusted, experienced, and authorized service provider you can rely on, consider iStore by St. Moritz. With Apple authorized status, stores in NYC and New Jersey, we offer a comprehensive range of Apple product services, Apple device management services, and a true commitment to quality.