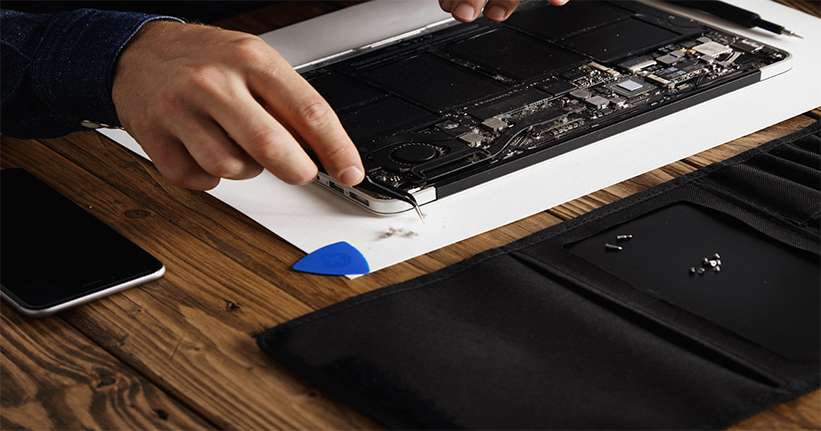 Apple products, known for their sleek design and robust performance, are not immune to the damage or issues that can affect any machine.
Unfortunately, you may find that as your Mac ages it develops problems booting up or powering on, performance lags, overheating or display problems.
For those of us who rely on Macs for work or study, this can be a major cause of anxiety – purchasing a new Mac can be extremely costly.
Before you buy a new computer, explore the options for affordable Mac repair near you. You may find that Mac repair is the more cost-effective solution, getting you back up and running without delay.
How Much Will Mac Repair Cost?
Apple's tiered pricing for repairs can reach up to $1,475, plus shipping charges. This significant cost, though, can be substantially reduced by opting for an authorized independent store providing Mac repair near you.
Apple product service providers typically offer free quotes and can sometimes provide a quick 1- to 3-day turnaround on computer repairs services in New York, NY. Authorized Apple repair stores use only OEM parts, preserving your machine's integrity and avoiding the compatibility issues or malfunctions that can arise when counterfeit parts are used.
What are the Benefits of Repair Over Replacement?
1. Cost-Effective
Repairing your Mac, iPhone, and other Apple products is generally more affordable than purchasing a new device
2. Time-Saving
With Mac repair near you, you'll experience faster service, avoiding the lengthy process of shipping your product to Apple for repair or purchasing and setting up an entirely new device
3. Preserved Settings
Keep your settings, data, and software intact without the hassle of transferring information and setting up anew
How Do I Decide Whether to Repair a Mac?
Consider the machine's age, your budget, and your specific needs when deciding whether the cost of repair is worth it.
Some qualified Apple repair specialists in NY provide flexible pricing, charging only for what is specifically needed in your repair.
Where Can I Find Affordable Mac Repair Near Me?
As an Authorized Apple Repair Specialist and Premier Partner, iStore provides the most reliable Mac repair near you. We honor all Apple® warranties, and offer a 24-48 hour turnaround time for diagnosis.
With locations in New York City and New Jersey, we assure quality and authenticity in all our Apple product services and parts, from MacBook repairs to iPhone battery replacement and Apple Watch repairs.
Making the decision to repair rather than replace your faulty Mac not only saves you money but also supports sustainability. When we repair Apple products instead of replacing them, fewer devices end up in landfill.
Get in touch with iStore today for all your Apple repair needs!